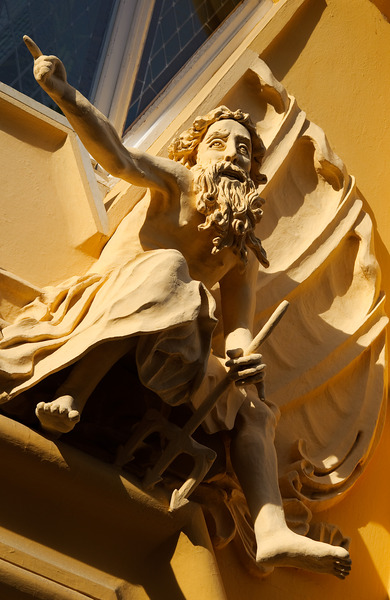 Saturday we left. I did not take any images. The car was full, my camera bag safely stowed in the back, and the return home were six hours on the highway, thus I wouldn't have been able to take images anyway.
All images presented here were taken on Sunday afternoon, shortly before we had dinner, not in the restaurant depicted, there we had been the day before.
Anna Maria, a friend of Michael's from Milano, had asked him why we had exactly picked Sestri Levante for our vacation. Well, you have to pick some place, do you? Now, looking back, I can say that the choice was excellent, and I can say it with much confidence.
It is our way of traveling, to visit sights, and Sestri Levante being in the middle of the Riviera Levante, the part of the Riviera east of Genova, was an ideal place. It has a highway exit and a train station (Michael arrived from Milano by train), but contrary to many other towns and villages on the Riviera, neither highway nor railway are obtrusive.
While Camogli was much more beautiful, it was much easier to get out of Sestri, and that's not a bad thing when you do it daily. The beach was directly in front of the hotel, thus I could swim in the morning and before dinner, so, all in all I'd say Sestri Levante was a fine place for people with our interests.
The Song of the Day is "I'm Going Back Home" by Nina Simone. I have it on a four CD collection "Four Women: The Complete Nina Simone On Philips". Hear it on YouTube.