During the Napoleonic Wars Vienna was occupied by French troops, and at that time the once mighty walls of the city / fortress, the walls that had survived the attack of the Ottoman Empire, they were tore down.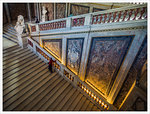 During the next century the modern "Ringstraße" was built, the inner belt of representative buildings like the Parliament, Burgtheater, the Opera or the University. Two of these buildings were museums, one dedicated to science and nature, the other to the Arts.
These pictures were taken in the Arts museum, Kunsthistorisches Museum, home of one of the most impressive galleries in the world, ranking among Paris' Louvre, London's National Gallery or Madrid's Prado. Contrary to many other museums you're allowed to take photographs there and I may show one or the other of the famous paintings in another post, but for now here are the dome spanning the lobby and the big central stairs. Big stuff, always a pleasure to photograph.
The Song of the Day is "Big Stuff" by Billie Holiday. Hear it on YouTube.