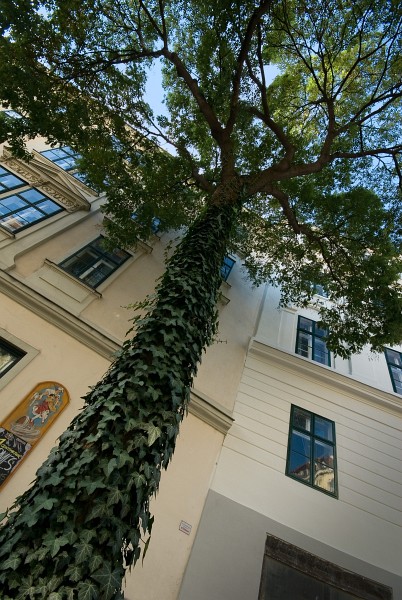 I admit, it gets tedious coming up with a good image a day, mostly because the days get shorter and when I am at work I have not much more than half an hour at noon.

In the morning, on my way to work, the light is quite good, but due to the angle of the sun it is almost only at the roofs. Not much good when you walk around with an ultra-wide angle lens. Well, I'll switch to the Nikon 18-200 tomorrow and try my luck with the tele range.

In the evening I am mostly too late to catch any sun at all, maybe I should try for some night shots again. As soon as I find some time I'll have an evening trip to Donaukanal, a canal that loops from the Danube right into the heart of the city and back out to the river. In past centuries it was used for transport of goods, now it is the departing place for tourist boats and overall a lively part of Vienna with many restaurants and cafés nearby.

This particular tree stands in Lenaugasse, just 100 meters from where I work. I was out there at noon and, though this is not much more than a quite acceptable shot, it at least meets the definition of what at the moment I call an "Image of the Day": it is from today. Well, probably I'll have to weaken the definition, but we will see.

Technically this is 10mm as always the last days. The were two high-contrast areas in the canopy that bothered me a bit, so I took them out by blending in a sky blue solid color layer sampled from the image itself. There is still a major hole in the canopy and for a short while I had contemplated surgery, but in the end I have decided against it. It would have been tedious and, all in all, I think there is nothing fundamentally wrong with a tree looking like a tree, is it?